For all companies, not just tech ones, their most important asset is the people. People are the face of your company, they make the key decisions that affect your product and your customers. With business, it really is all about the people.
That's why the talent market is so fierce. Companies of all size are fighting over the same talent pool and when you're in a growing tech team you need to add people fast and unfortunately, the 'easy' answer is recruiters.
It's odd because there aren't a tonne of people on either side of the recruitment coin who like recruiters sitting in the middle. Many companies don't want to pay the exorbitant fees and often the candidates supplied are of low quality. Plus I hear quite often that people hired through a recruiter aren't passion led, their driver is money and typically not a good fit for a fast growing tech business.
On the other side of the coin, employees are bombarded with emails and calls from clueless recruiters (hands up Java developers who have been approached by recruiters for Javascript roles).
So recruiters, are expensive and nuisance but they do provide benefits and value to many companies so they're here to stay. What can we do as a community to reduce our reliance on them?
A better way of doing it
As a startup ecosystem how can we approach recruitment better? I think there are three area's to focus on:
Building relationships
Talent pipeline
Promotion
Let's start with 'building relationships'. Early stage recruitment is based heavily on trust and relationships and therefore, as an ecosystem, we need to develop ways that allow us to build solid professional relationships.
Events such as the RookieOven Meetup, Startup Grind, Tech Meetup and the many technology specific user groups serve an important role here. The leaders of these events and communities often do it as volunteers and I would love to see more companies support these grassroots and volunteer led meetups and communities with sponsorship, low cost event space and maybe even some staff resource.
Our talent pipeline is also key. We need to develop the talent our businesses need to succeed and thrive. There are positive steps here. CoderDojo, CodeBar and our own Academy are initiatives that are feeding the top of the funnel and CodeClan is an option for those looking to retrain The Scottish Government and Skills Development Scotland are investing heavily in this area and its something I hope to see continuing.
Lastly our ecosystem needs to have a mechanism to promote opportunities and with that in mind we're relaunching the RookieOven Job Board.
Our Community Job Board
Our job board is for the community. The aim is to make it affordable and easy to promote opportunities with your company to the talent base in Scotland.
We're going to be approaching our job board with some core practices that we hope will make a solid contribution to the tech ecosystem:
Who's Hiring - In the first week of each month, we'll be writing a 'Who's Hiring' blog post highlighting the positions on the job board with a bit more detail on the roles, the team and why people should be joining them.
Highly Curated - the job board is for tech companies only. We'll act as bouncers to ensure only the 'right' positions are listed there with authentic, active, ambitious companies with a connection to the Scottish tech ecosystem.
Engaging Education - youth isn't a limiting factor in talent. Some amazing talent is in our schools, colleges and Universities and over the years RookieOven has made great connections through our Academy with educators in Scotland. We want to use these connections to showcase what the Scottish tech ecosystem has to offer in regards to employment.
Shout on Social Media and Newsletter - We're promoting jobs and opportunities in our fortnightly newsletter which will highlight the best opportunities.
Having Ambition - we want the community job board to be the go-to reference point for people looking to join a tech company in Scotland.
Our aim is to give amazing opportunities in Scottish tech visibility while also giving good talented folk looking for their next opening exposure to what it could be with a startup or growing tech business.
How do I list?
Getting a listing on the job board is easy. Head to the job board, click "Add Job", enter your job details, create an account, choose if you want a boosted listing or not and pay for your subscriptions.
Yup, the job board costs money. Its £25 per month for a normal listing, £50 per month for a boosted listing. It's far from a money maker.  The fee is really there to ensure companies keep their job listing fresh and remember to take it down.
We had a job board on the old version of the RookieOven site but it was manual, clunky and far too reliant on me. Whilst it was free we realised that was a problem - those listing jobs didn't 'value' free. The no cost led to listings becoming stale, the board would be linking to 404 pages. We think the small monthly fee, which is fair and affordable, will ensure people come back and ensure their listings are fresh and up to date - if you disagree let us know why. I'll repeat, it's not a money maker for us.
Who is on it just now?
The job board is live, check it out at https://rookieoven.com/jobs however even at this early stage we have some amazing listings already including ProdSight who just raised and Shogun from YCombinator.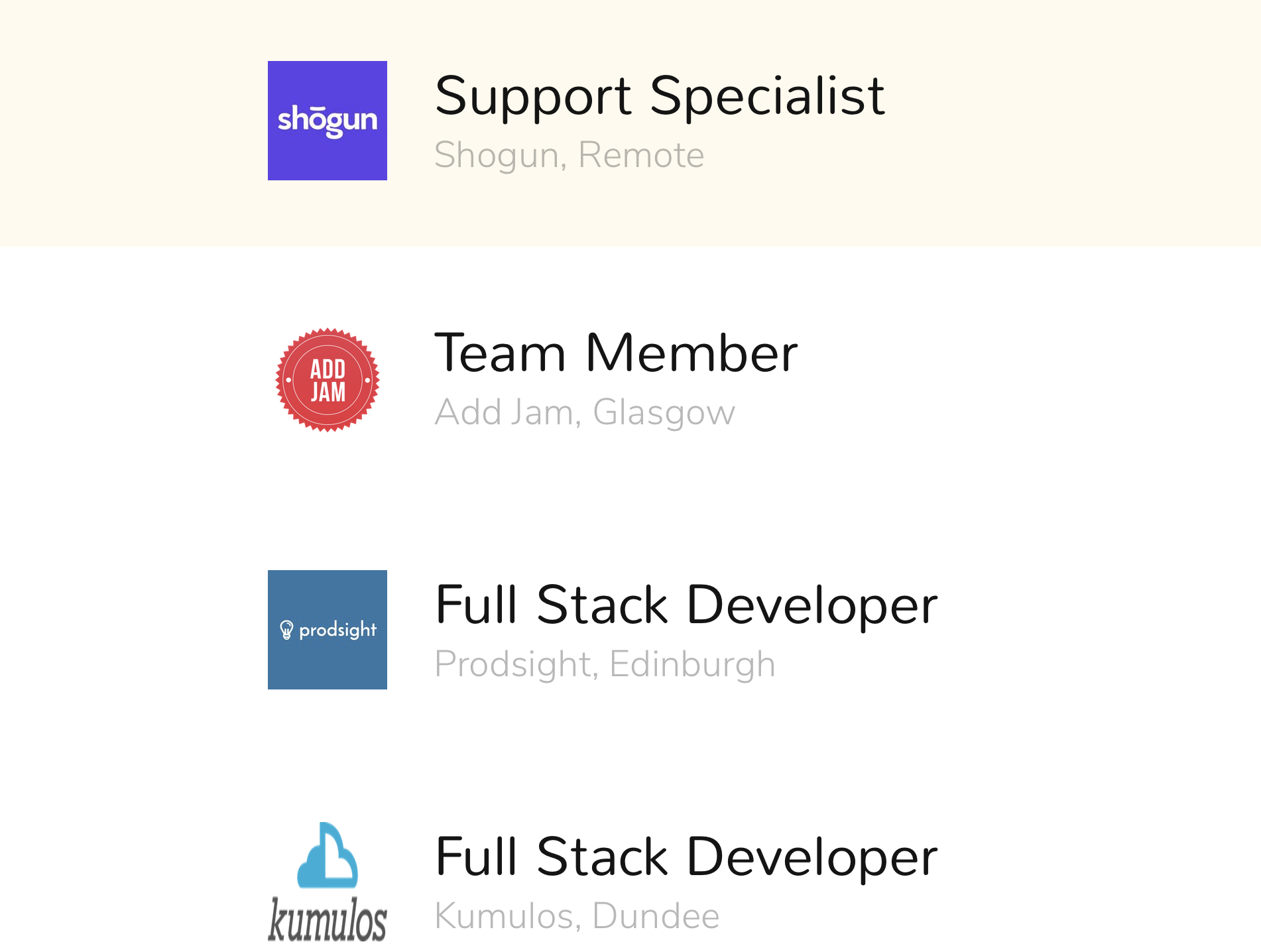 A better world
While recruiters are here to stay, and do provide value for many companies, I think there are some achievable positive steps we can take to a better way of hiring talent. I hope for the RookieOven job board to play a role in that and if you agree with me then get your listing up on the job page now.