How Glasgow has Transformed our Driving Startup
When launching a product in a to your initial target market (in our case a small city), the data you gather there informs your assumptions and your decision making. It's easy to fall into the trap - if it works here it's going to work everywhere. 
GoRoadie was born in Dundee back in 2016 with the aim of helping local learner drivers search, compare and book driving lessons online — the way they expect to. We launched the service with around 10 driving instructors. Eventually, the number of learners and driving instructors using GoRoadie grew and grew. The service started running itself and instructors and learners were both getting value. In September 2018, we decided to take the business nationally, and both my co-founder and I quit our full-time jobs to focus solely on GoRoadie. 
In March 2019, we launched the service in Aberdeen after everything we learned from Dundee. This validated what we learned in Dundee; learners are happy to book their driving instructors through our website, and Aberdeen instructors were happy to take learners from across the city. With that success, we turned our heads to the west and quickly ran into a problem...
Glasgow was a different beast. 
Size Does Matter
As with all our city launches, we like to get to know the area and get to know how our customers would use the service. We met with Glasgow-based driving instructors and picked their brains on our product. They loved the concept, however, they continued to remind us that they operated in a completely different way from instructors in Dundee or Aberdeen; they set limitations on how far they would travel for work. 
In Dundee or Aberdeen, you see, if a pupil is searching for a driving instructor, any instructor can take them. This is not true in Glasgow.  
Instructors in Glasgow only work certain areas; perhaps south-east near East Kilbride or the north-west. Some travel into the centre, some avoid it.
Our product had no mechanism for this type of search; previously it was based on location name e.g. Dundee, Glasgow, Aberdeen. 
We needed to iterate and fast. 
We quickly got to work building a fully functioning prototype that was based on postcode searches; instructors would select the postcode regions they operated in and students could then search via postcode.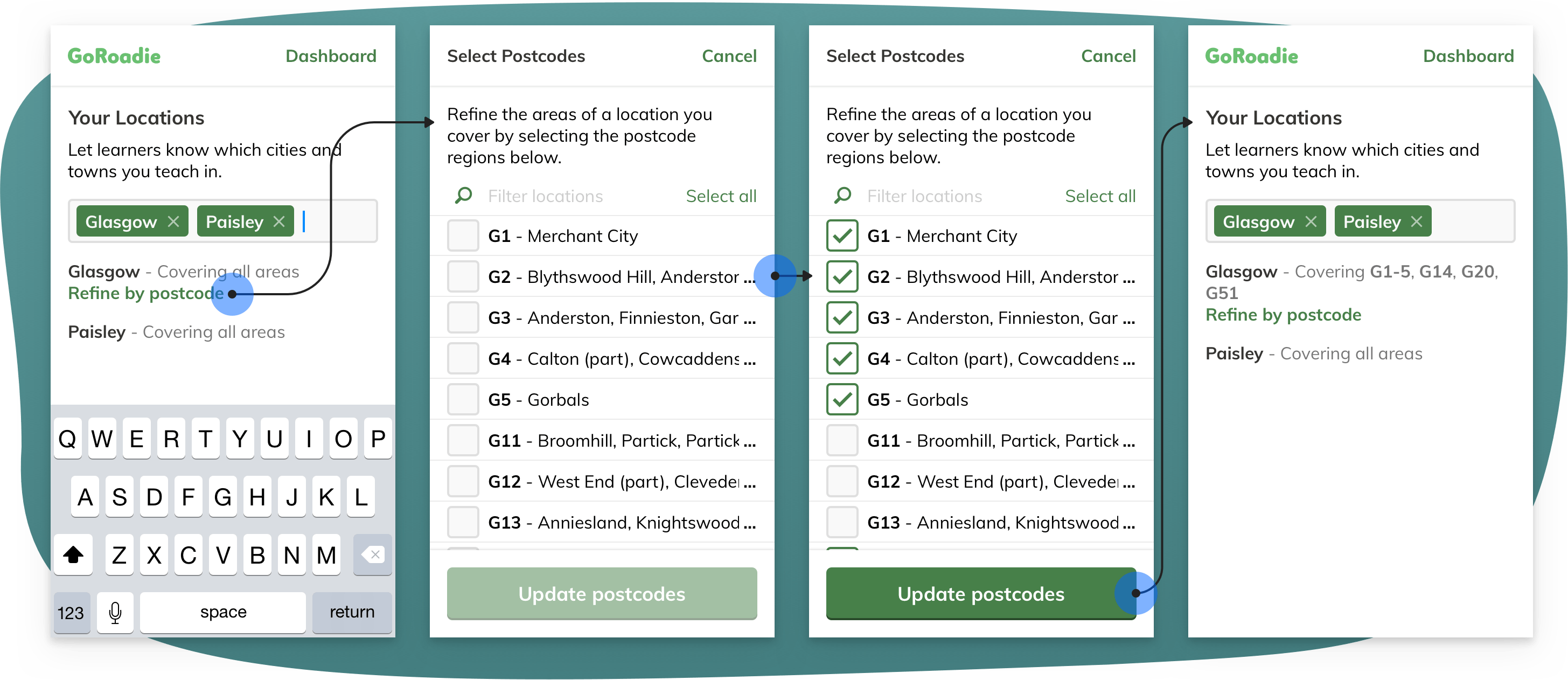 The feedback? Positive but not good enough. We were told by some instructors that they felt there would be too many postcodes and some postcodes areas were simply too large to fully cover.
Back to the drawing board, then. Our next solution was to offer a map with a simple distance radius mechanism. This was much more widely accepted.
One week later — our new search system was live and Glasgow instructors started accepting students from all over the city. Success! 🎉
Apps like Uber & Deliveroo are commonplace
When we eventually started advertising GoRoadie to learner drivers in Glasgow, we assumed uptake would be similar to Dundee and Aberdeen. We were blown away by the response. 
In the first month, Glasgow learners made up 80% of all booking requests.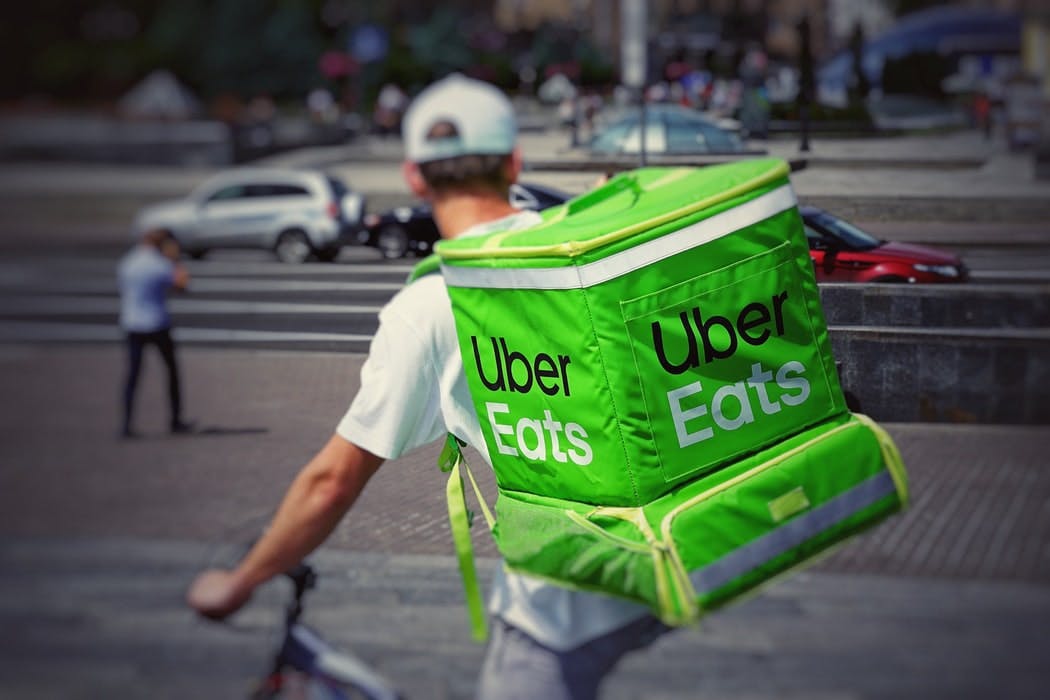 Learners were keen to book their driving lessons through an online system. After all, app-based services like Uber and Deliveroo are very common in Glasgow — something Dundee and Aberdeen are only just embracing.
This gave us a lot of confidence for going forward into Nottingham and Leeds. 
The Glasgow Community
When we first went to Glasgow to speak to instructors, we were invited along to a few of the driving instructor meetups. This was a great opportunity for us as we got to see what instructors thought of the current state of the industry and to see the challenges facing them. 
We also realised there was a huge sense of community amongst these instructors. They felt part of something bigger than just their own business. 
The sense of instructor community in other parts of the UK is not nearly as strong. Having support from your peers when you're a sole trader working long hours is something these instructors relish. 
We have taken that idea of community that we felt in Glasgow and are building it into GoRoadie. We want to help more instructors across the country feel connected. We now plan to show them where their nearest meetup is, who is attending and how they can get involved. 
The sense of community (there are meetups often for driving instructors, and they feel like they are part of something bigger — we want to help do that across the country because the benefit we see)
Despite the Glasgow launch being one of our toughest challenges to date, it has set the groundwork for the next phase of our product going forward.
In order to launch, we needed to overcome a huge technical limitation of our software and change the way learners and instructors used GoRoadie. Since launch, we have realised that larger cities are keen to use our service. 
Starting our service in Dundee was perfect for us to get our Minimum Viable Product out there, and ensure it delivers value. However, just because this worked in one location doesn't automatically mean that it is ready to roll out nationally.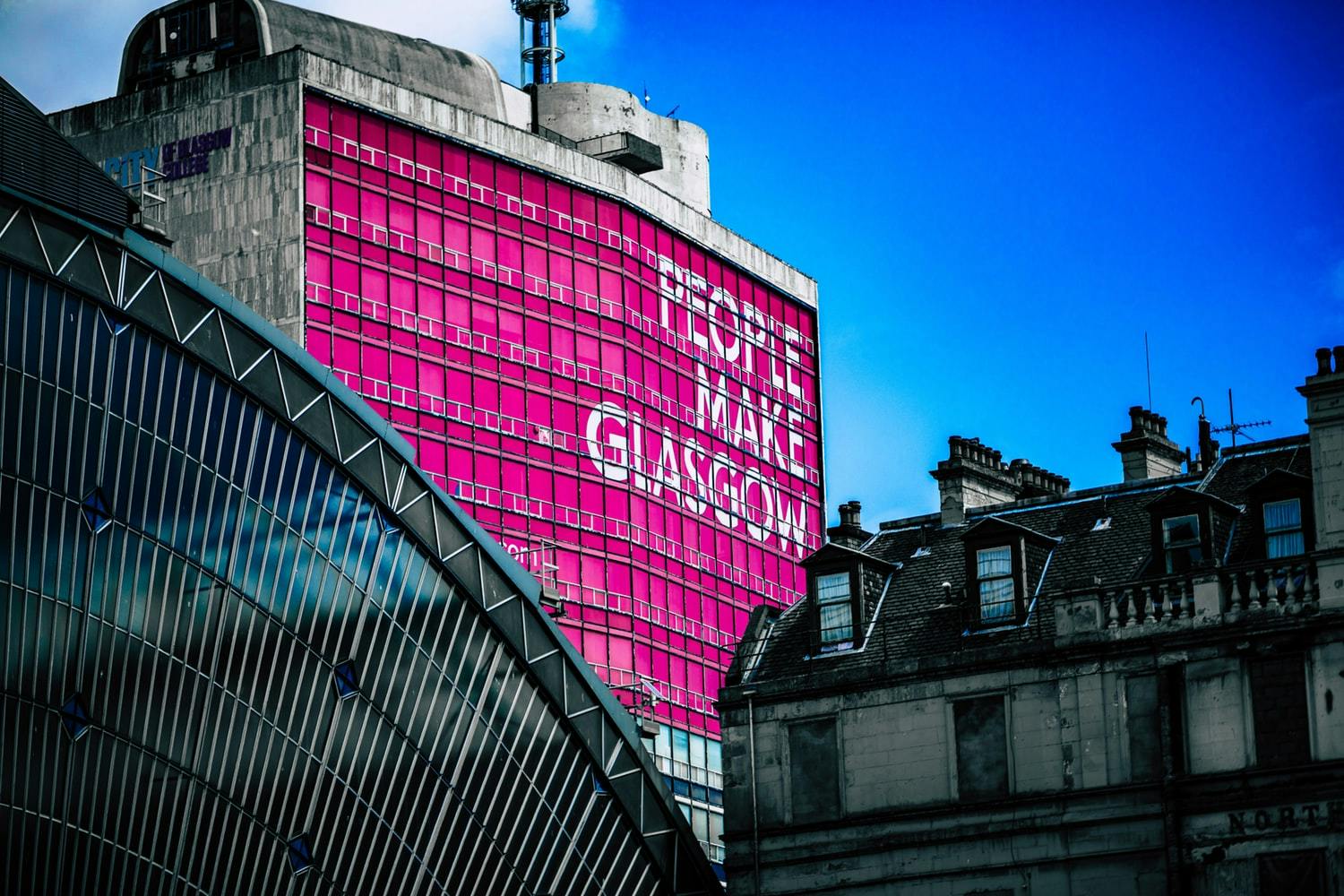 We now have so much more confidence in the business — we know that having cracked Glasgow; Manchester, Birmingham should follow a similar process. 
We now understand our instructors and learner drivers behaviour better and because of the complexities of Glasgow, we have now built a much more flexible system that doesn't just help Glasgow Instructors but instructors across the UK. However, we are going to be open to change when we launch in new locations - just because GoRoadie now works in Glasgow, London may be another story...
Thanks to the instructors who have been open working with us, we feel part of their community — we now attend their events and catch up every so often. 
People truly make Glasgow.
GoRoadie is a UK-based startup, connecting driving students with their ideal instructors. We launched our Glasgow Driving Lessons landing page, helping Glaswegian's pick their ideal driving instructor — as well as learners across the UK in Dundee, Aberdeen, Nottingham and Leeds.